2014-01-05 – Jimmy auf Urlaub auf der NTH-Ranch — Jimmy on vacation at NTH-Ranch
Das Jahr 2014 fängt für uns wirklich richtig gut an… nachdem Tom die Heimreise nach England mit Steffi und ihrer Stute "Sun in Motion" gut überstanden hat, machte er auf der Rückfahrt Halt in der alten Heimat, um dort einen Feriengast einzuladen. 🙂 Jimmy – der 6-jährige Traber-Wallach einer lieben Freundin aus Radevormwald, wird die nächsten Monate bei uns verbringen. Unsere liebe Heike (jaaaa, alle Heikes sind lieb!) konnte sich leider aus persönlichen Gründen, auf die ich hier nicht näher eingehe, in der letzten Zeit nicht so intensiv um Jimmy kümmern, wie sie es sich selbst gewünscht hätte. Eines Tages schrieb Heike uns an, ob wir nicht jemanden wüssten, der Jimmy für eine Zeit aufnehmen könnte und wo er es so richtig gut hat. Wir haben uns sofort angeboten, ihm einen guten Platz zu bieten, wo er gefordert und gefördert wird, und vor allem Pferd sein darf. Jimmy ist ein absoluter Rohdiamant, der bereits erste Erfahrungen mit Longieren und Gelassenheitstraining machen durfte – er ist jedoch bis heute noch nicht geritten worden. Das soll sich nun bald ändern, und wir hoffen, aus Jimmy ein ruhiges und sicheres Verlasspferd machen zu können, mit dem man bald – gemeinsam mit unseren Pferden – im Gelände ausreiten kann. Jimmy wird die ersten Wochen mit unserem 17-jährigen Wallach Paco eine eigene kleine Herde bilden – später werden wir dann beide zusammen in unsere "Männer-Herde" integrieren. Wir freuen uns riesig darüber, hier unsere Hilfe anbieten zu können und hoffen, einen kleinen Teil dazu beizutragen, dass Heike ihren Kopf nun frei bekommt und eines Tages einen geschliffenen Diamanten nach Hause holen kann.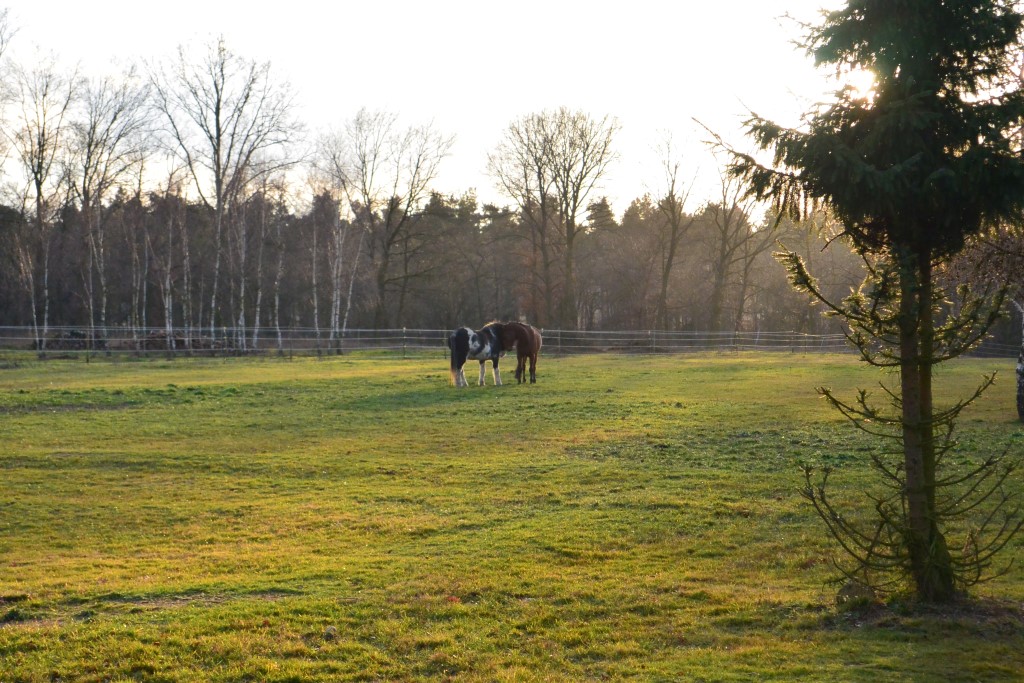 The year 2014 started really, really good for us… right after going home from his journey to England with Steffi and her mare "Sun in Motion", Tom stoped at our old home to pick up our new vacation guest. 🙂 Jimmy – a 6 -year-old trotting gelding of a dear friend from Radevormwald, who will spend the next few months with us. Our dear Heike ( yeah, all Heikes are dear) unfortunately due to personal reasons, was no longer able to take care for him. I wont explain the details, but during the last months she could not spent as much time with Jimmy, as she would love to. One day, Heike asked us if we would know anyone who could take Jimmy for a time, and a place where he would have a really good place to stay at. We immediately offered us as the good place where he will be challenged and encoura, and where he could be "horse". Jimmy is an absolute row diamond, who made his first experience with lunging and composure training – he has not yet been ridden. This will change soon. We hope to turn Jimmy into a quiet, safe and reliable pleaseure horse soon, which you can take for a trail ride together with our horses. Right now Jimmy will stay together with our 17 year old gelding Paco – later we will integrate both with our " Men's herd". We are thrilled about being able to offer our help here and hope to contribute a small part to the fact that Heike now gets her mind free, and one day can take a well grinded diamond home.
read more / weiterlesen: 2014-01-06 – Jimmy, die erste Fütterung — Jimmy, the first feeding