Epilog :
Hier sieht man mal unsere gefahrene Route im Hinblick auf die Weltkarte. Von der gefahrenen Strecke her hätten wir auch einmal China oder das europäische Festland komplett umrunden können. 10.517 Meilen, das sind genau 16.922 Kilometer. Wir haben uns zum Beginn unserer Reise entschieden, keinen Leihwagen – sondern ein eigenes Auto zu nehmen. Unserer Meinung nach macht ein Leihwagen Sinn, wenn man 2 oder 3 Wochen unterwegs ist, aber für eine solch lange Zeit ist ein eigenes Auto effektiver. Wir haben den Wagen anschliessend verkauft – zwar nicht mit grossartigem Gewinn, aber auch nicht mit Verlust. Denn wenn man mal einen Leihwagen gegenrechnet, wäre dieser letztendlich teurer gewesen. Der Jeep, der uns durchs ganze Land begleitet hat, war wiederum eine Herausforderung für sich. Er war recht klein, eng und das Kofferverstauen hatte was von "Tetris" spielen. *lach* Aber wir finden, so etwas gibt doch erst das richtige Abenteuerfeeling, das man in einem komfortableren Auto niemals bekommen hätte. 🙂
Wir haben uns bewusst immer für recht einfache und preiswerte – aber dennoch saubere Motels entschieden. Diese haben wir (ausser in Florida zu Beginn) nie vorab gebucht, sondern uns immer spontan gesucht. Der Vorteil dieser kleinen Motel: Sie haben meist eine Waschmaschine und einen Trockner, so dass man nicht mit Schmutzwäsche von 6 Wochen nach Hause kommt. Bei sehr vielen dieser kleinen Motels kann man auch mit dem Auto direkt bis an die Zimmertür fahren. Wesentlich angenehmer, als seine Koffer mehrere Etagen hoch durchs komplette Hotel zu schleppen. Ein weiterer Vorteil : Hier lernt man Land, Leute und ihre Gewohnheiten wesentlich besser kennen. Uns persönlich bringt es gar nichts, wochenlang in einem überteuerten Betonbunker zu verbringen, und dort nur deutschen Touristen über den Weg zu laufen.
Die Benzinpreise sind in Amerika genau wie bei uns angestiegen, aber durchaus noch bezahlbar. Für eine Gallone Benzin (das sind ca. 4 Liter) haben wir von 3,34 Dollar bis zu 4,15 Dollar bezahlt. Am teuersten war das Benzin in Californien. Zum Thema Zigaretten… hier muss man wirklich die Preise vergleichen : Es gibt gravierende Abweichungen je nach Bundesstaat: In New York bezahlt man mittlerweile für eine Schachtel Marlboro 12 Dollar – in Virginia haben wir sie für 3,40 bekommen. Aber auch innerhalb eines Staates können die Preise – ebenso wie die Benzinpreise – recht stark abweichen. Manchmal gibt es schon erhebliche Unterschiede bei zwei benachbarten Tankstellen. 🙂
Essen gehen ist auch ein interessantes Thema… erst mal grundsätzlich : Die Amerikaner gehen ganz anders essen als wir Deutschen. Wir gehen essen in erster Linie wegen der Gemütlichkeit. Was trinken, mit Freunden treffen, reden, gemütlich sitzen, etc. Die Amerikaner gehen hauptsächlich essen, um satt zu werden. Deshalb bringt einem der Kellner meist schon, während man noch isst, die Rechnung an den Tisch. Das wäre in Deutschland undenkbar, und ein Kündigungsgrund für den Kellner. *lach* Toll finden wir, dass man nur ein Getränk bezahlen muss, und dann immer wieder kostenlosen Nachschub bekommt. Meist darf man sich sogar seinen Becher nochmal voll machen für den Heimweg. Somit halten sich die Rechnungsbeträge durchaus im überschaubaren Rahmen. Sehr beliebt in Amerika sind die Restaurants mit Buffet, in denen man für wenig Geld so viel essen kann, wie man will. Was man nicht vergessen sollte, ist das Trinkgeld. Das Personal bekommt recht geringe Löhne, und ist auf die Trinkgelder angewiesen. 10 – 15 Prozent der Gesamtrechnung sollten es schon sein. Sind in dem Restaurant spezielle "Tischabräumer" angestellt, ist es völlig normal, auch nochmal ein paar extra Dollar auf dem Tisch liegen zu lassen. Einkaufen ist auch eine tolle Sache, da viele Supermärkte 24 Stunden geöffnet haben. Wenn also Heike nachts um 3 mal Hunger auf ein Eis bekam, kein Problem : Fahren wir mal eben zu Walmart. *lach*
Also – unser Fazit :
Wir würden – und werden – es immer wieder tun! Wir wissen, dass es Besserwisser, Neider und Schlechtreder gibt, die unsere Art zu reisen, nicht nachvollziehen können. Aber was soll ich sagen? Jeder Jeck ist anders – leben und leben lassen.
In diesem Sinne : Bis zum nächsten Mal, habt eine gute Zeit, wir lesen uns bei Facebook!
Lieben Gruss von Tom und Heike 🙂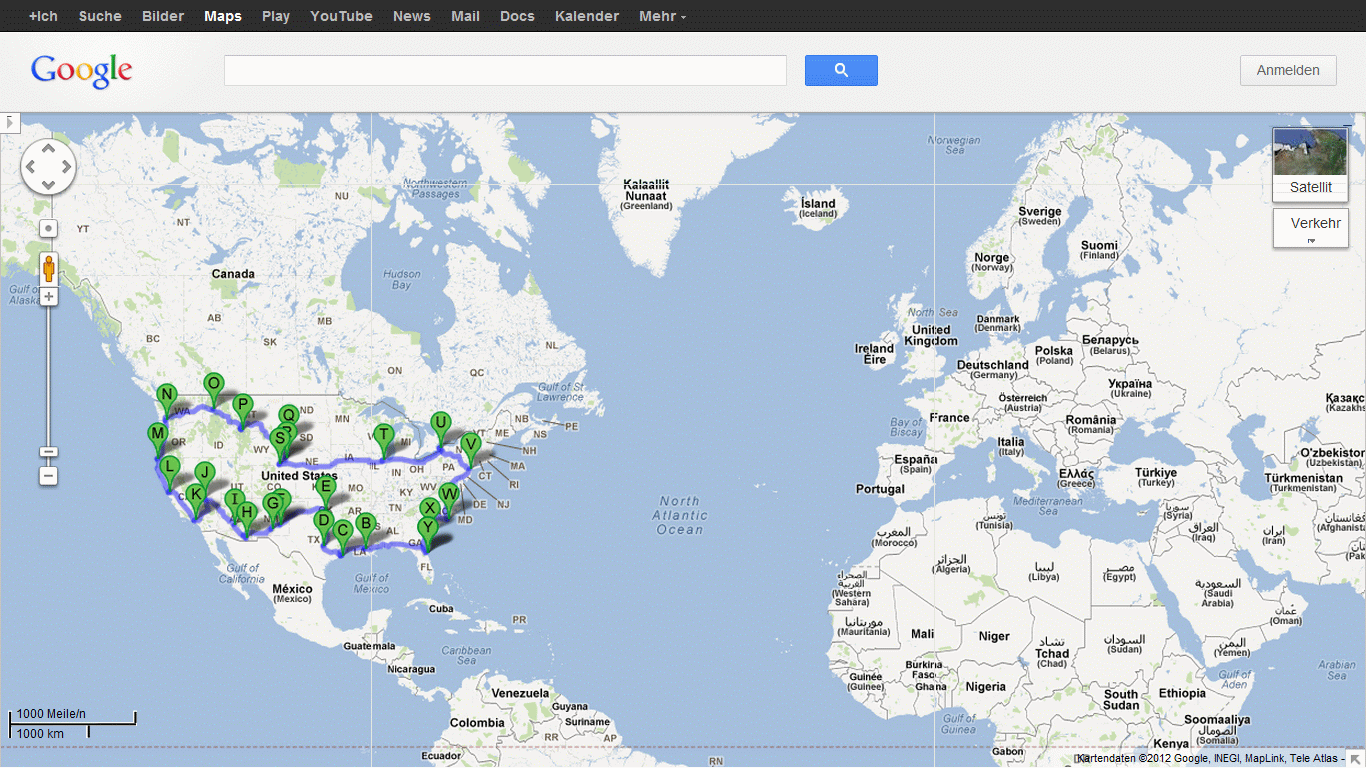 Epiloque :
Below you see our complete tour across the US in comparison to the world map. The distance we traveled on this tour we also could have surrounded even China or the European continent. The total was 10,517 miles, which converted are exactly 16,922 kilometers. For this trip we decided not to rent a car – but to buy and own a car. In our opinion it makes only sense to rent a car when you plan a 2 or 3 week trip, but for such a long time having your own a car is mor effectively. And the end of our trip we sold the car – not with a magnificent win, but at least not a big loss. If you calculate the costs for a rental car against a car you own for that time, the rental car would be definetly more expensive. Our Jeep, which has accompanied us across the country was once again a challenge itself. It was quite small, and storing our luggage was like playing "Tetris". *laugh* But we believe this gives you the right adventure feeling which a comfortable car could n´t give you ever. 🙂
For our trip we decided to stay in a relative simple and inexpensive – but always clean – motels. Those we never (except in Florida where we started our tour) booked in advance, so we always looked spontaneous every evening. The advantage of those small motels: they usually have a washer and dryer, so you don´t have dirty laundry of 6 weeks when you come home. At some of the small motels you can also park your car infornt of your door. This is much more pleasant than hauling your suitcases up several floors and thru the entire hotel. Another advantage is you learn more about this country and it´s people and their habits. Personally, we don´t like to spend weeks in an overpriced concrete bunker, where you mostly find other German tourists on their vacation.
Talking about the gas prices in America. They are just as ours. They went up, but they are still quite affordable. For a gallon of gasoline (which is about 4 liters), we paid from $3.34 to $4.15. The most expensive was in California.
Cigarette prices … here you have to really compare: there are significant differences depending which state you are: in New York you pay now for a pack of Marlboro $12 – in Virginia, we got it for $3.40. But even within one state, the prices – just as gas prices – vary a lot. Sometimes there are already significant differences at two gas stations at one intersection. 🙂
Going out for dining is also an interesting topic … just one thing: Americans have a different attitude as we Germans. We go out  primarily to have some drinks, meet friends, talk, sit comfortably, etc. The Americans follow mainly the idea to eat and that´s it. Therefore the waiters usually brings you the bill to your table, even while you are still eating. In Germany this would be a reason to fire the waiter immediately. *laugh* We think it is a great idea over here in the States that you only pay for a beverage and then have as many refills you want for free. At most places you can even get a refill before you go. So the amounts of our dining were within manageable limits. Very popular in America are the restaurants with buffet, where you can eat for little money as much as you want. But one thing you should always keep in mind is the tip. A waiter gets a very low wage, and so he depend on the tips he will get. 10 – 15 percent of the total bill should be given at least. Also the busboy gets a tip which you leave on the table. Next is shopping. It is also a great thing, because many supermarkets are open 24 hours. So if Heike wakes up at 3 am in the mornign and was hungry for ice cream, no problem: Let's go to Walmart! *laugh*
So – our final conclusion:
We would – and will – do it again! We know that there are wiseacres, envious and people who talk bad, who can not understand the way we did our traveling. But what to say? Each One is different – live and let live.
In this sense, see you next time, have a good time, and you also can read from us on Facebook!
Greetings from Tom and Heike 🙂
read more / weiterlesen: 2012-06-09 – Saturday with friends at NTH