Wieder ein schwerer Tag für uns, an dem wir spüren durften, dass Freud und Leid manchmal unmittelbar zusammen hängen…
… der Tag des Abschieds von unserem Waisenfohlen Debby. Am 24.04.2014 kam sie zu uns, nachdem Lady´s erstes Fohlen kurz nach der Geburt verstorben war. Nach kürzester Zeit nahm Lady dieses Waisenfohlen als ihr eigenes an und beide waren seitdem unzertrennlich. Zusammen mit Mounty und ihrem Fohlen Willy bildeten sie eine Einheit, eine richtige kleine Familie (wie alles begann…).
Uns war natürlich klar, dass dieser Tag früher oder später kommen würde. Aber ehrlich gesagt wäre uns etwas später lieber gewesen, da wir Debby eigentlich noch nicht von Lady absetzen wollten. Debby trank noch bei Lady und auch im Sozialverhalten war ihre Entwicklung noch nicht abgeschlossen. Und natürlich hatten wir die kleine Maus einfach zu sehr ins Herz geschlossen. Somit war unsere Einstellung, es könnte zum Absetzen zu früh sein, auch ein ganz klein wenig egoistischer Natur. 🙂
Als Elisabeth und Josef – die lieben Besitzer von Debby aus dem Emsland, vor ein paar Tagen anriefen, und uns ihren Entschluss, Debby nach Hause holen zu wollen, mitteilten, fühlte es sich ein wenig an wie ein Schlag in die Magengrube. Sie hatten ein gleichaltriges Hengstfohlen gekauft – und Debby sollte nun zukünftig mit ihm und ihrer ein Jahr älteren Schwester aufwachsen. Und ganz ehrlich? Wären wir in ihrer Situation, hätten wir sicherlich ebenso entschieden.
Morgens um 9 Uhr kamen die lieben Menschen nach wieder langer Fahrt hier bei uns auf der NTH-Ranch an. Und wieder gab es – genau wie damals bei unserem ersten Zusammentreffen – erst mal ein paar Brötchen und eine Tasse Kaffee. Denn wieder einmal stand uns noch etwas Arbeit bevor. Im April brauchten wir etwa 2 1/2 Stunden, bis Debby endlich an Lady´s Euter trinken durfte. Dieses Mal war die Herausforderung, Debby ans Halfter zu bekommen. Sicherlich hatten wir Debby in den letzten Wochen und Monaten immer wieder die Materie Halfter nahe gebracht, aber uns fehlte zugegebenermassen auch leider die Zeit, uns konsequent damit auseinanderzusetzen.
Wir stellten also Debby und ihre Ziehmama Lady als erstes zusammen in den Roundpen, um störende Einflüsse auszuschalten. Debby lief ein paar Runden, und Tom brachte sie immer wieder mit dem Strick in Kontakt. Nach und nach wurde Debby ruhiger und merkte, dass ihr niemand etwas böses will. Nach einiger Zeit akzeptierte Debby, dass Tom den Strick um ihren Hals legte. Bereits kurze Zeit später lies Debby sich das Halfter anlegen und Tom konnte sie gemeinsam mit Lady zum Anhänger führen. Nun kam der schwierigste Teil, da Debby ja bisher nur ein einziges Mal mit dem Anhänger gefahren war – und das war nun ein halbes Jahr her. Mit etwas Futter lies sich Debby aber problemlos in den Hänger locken. Lady war auch recht entspannt und wurde gleich nachdem Debby im Anhänger stand, wieder zu ihrer Herde gebracht.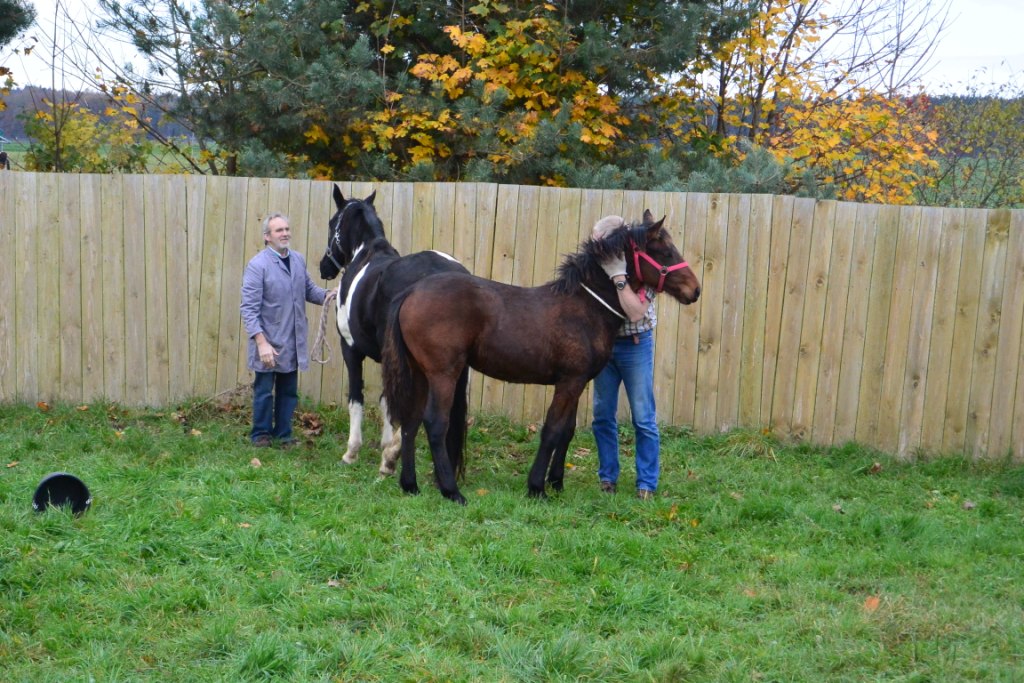 Im Nachhinein gesehen war es wirklich erstaunlich. In gerade einmal knapp 2 Stunden lief Debby am Halfter und war verladen. Besser konnte es nicht laufen! Nun wurde es uns doch sehr schwer ums Herz, da der Abschied unmittelbar bevorstand. Und auch wenn dieser sehr, sehr herzlich ausfiel, so mussten wir uns doch das ein oder andere Tränchen verdrücken. Einerseits waren wir sehr traurig, dass Debby uns verlässt. Wir haben sie aufwachsen sehen und durften ein Teil ihrer Kinderstube werden. Auch für Lady war es ein grosses Glück, dass sie nach dem Tod ihres Fohlens gleich jemanden hatte, der sie über den Tod hinweg trösten konnte. Andererseits waren es einfach Glückstränen, die uns die Wangen hinunter liefen… Debby hatte heute wieder einmal bewiesen, wie lernwillig sie ist – einfach ein tolles Pferd. Und wir wünschen ihr alles Glück der Welt in ihrem neuen alten Zuhause, in dem sie nun mit anderen tollen Pferden weiter aufwachsen darf. Und sicherlich wird die kleine Maus noch oft zurück denken… an ihre Zeit auf der NTH-Ranch bei einer vorbildlichen Mama, die sich in ihren ersten Lebensmonaten rührend um sie gekümmert hat. Genauso werden wir noch ganz oft an die tolle Zeit mit Debby denken… und an die lieben Menschen aus dem Emsland, die uns dieses Glück beschert haben. Einfach nur DANKE, dass es Euch gibt!
Another tough day for us, where we felt sometimes joy and sorrow are very close together …
… The day for our orphan foal Debby to go back to her family. In April 24th., 2014 she was brought to us just after Lady's first foal died shortly after birth. After a very short time Lady accepted this orphan foal as her own and both were inseparable ever since. Together with Mounty and her foal Willy they formed a unit, a proper little family (how it all began …).
We knew it from the very first day that this day would come, sooner or later. But honestly it should have been a little later, since we didn´t wanted to settle Debbie away from Lady at this time. Debby still wasw drinking at Lady and also her social behavior development was not yet complete. And of course this little one captured our heart a little too much. But this is mayby a little bit selfish. 🙂
When Elizabeth and Joseph – the dear owner of Debby, coming from the Emsland, called a few days before to tell inform us that they have decided to take home Debby, it felt a little like a punch into the stomach. They had bought a colt same age a few weeks before – and Debby should now grow up with him and her one year old sister. And to be honest? If we were in their situation, we certainly would do the same.
This morning at 9 a.m. after a long drive they arrived here at NTH-Ranch. And again it was – just like our first meeting. We first had a couple of rolls and a cup of coffee. And like in April, we still had some work coming up. In April it took about 2 1/2 hours, until Debby finally was allowed to drink at Lady's udder. This time the challenge was to get Debby to the halter. Certainly we have repeatedly worked with Debby during teh last weeks and months, to get used to the halter, but due to lack of time we had no success so far.
So first we took Debby and her foster mom Lady first to the round pen, to turn off external interference. Debby ran a few laps, and Tom again brought her in contact with the leadrope. Gradually, Debby turned to be quiet and realized that there was no one around to do something bad one her. After some more time Debby accepted Tom to put the leadrope around her neck. A short time later Debby allowed Tom to put the halter over her head, and Tom was able to lead her together with Lady to the trailer. Now the hardest part needed to be done next, because Debby was loaded on a traile jsut once – and that´s now half a year ago. We convinced her with some grain and she easily walked into the trailer. Lady was also quite relaxed, and as soon Debby was in the trailer we brought her back to her herd on the pasture.
Looking back to all of it, it seems to be really amazing. Within less than 2 hours Debby walked with a halter and was loaded safe on a trailer. It couldn´t be better! Now our heart became heavy, because the departing was imminent. And even this was a very, very warm and hearty moment, we had to rush off one or more little tears. On one hand, we were very sad Debby leaving us. We saw her growing up and being a part of her life. And even for Lady it was a very fortunate situation to have Debbie after the death of her own foal. Debbie was the one who could comfort her over the death. On the other hand, there were just lucky tears running down our cheeks… today Debby had proved once again she is eager to learn – just a great horse. And now, we wish her all the luck of this world at her new/old home where she now can grow up with other great horses. And certainly we still will look back to this little one … to the time she was here with us at NTH-Ranch … to Lady, an exemple of a great foster mother who took care for her during the first months of her life. Touching moments. We also will think of this great time with Debby quite often … and to the dear people from Lower Saxony, who brought us this happiness. Just THANK YOU for being there!
weiterlesen/read more: 2015-04 – Püppi, Gino und Jimmy endlich unterm Sattel – finally starting Püppi, Gino and Jimmy